Palampur 29 May. A five days training workshop for Akashwani and Doordarshan broadcasters began at CSK H.P. Agriculture University, here today. Organised jointly by the University and National Academy of Broadcasting and Multimedia(NABM), Prasar Bharti New Delhi, the workshop was inaugurated by Prof. H.K.Chaudhary, Vice Chancellor.
In his inaugural address, Prof. Chaudhary emphasised the need to develop a strategic communications plan for cost effective agriculture with the objective of doubling farmers income by utilising new and innovative farm production techniques and technologies. The Vice Chancellor said that scientists and broadcasters can join hands to provide useful Information to farmers which may enable them to enhance their farm income. He said that broadcasters should study the working of farmers in niche areas to learn their hard work and the way they deal with day to day problems in their farms. He said good work of progressive farmers should be highlighted at the National level so that others are also motivated. The Vice Chancellor also highlighted strengths of Himachal Pradesh in agriculture and asked trainees to encourage farmers to ask questions and provide accurate information. He also detailed major achievements of his University.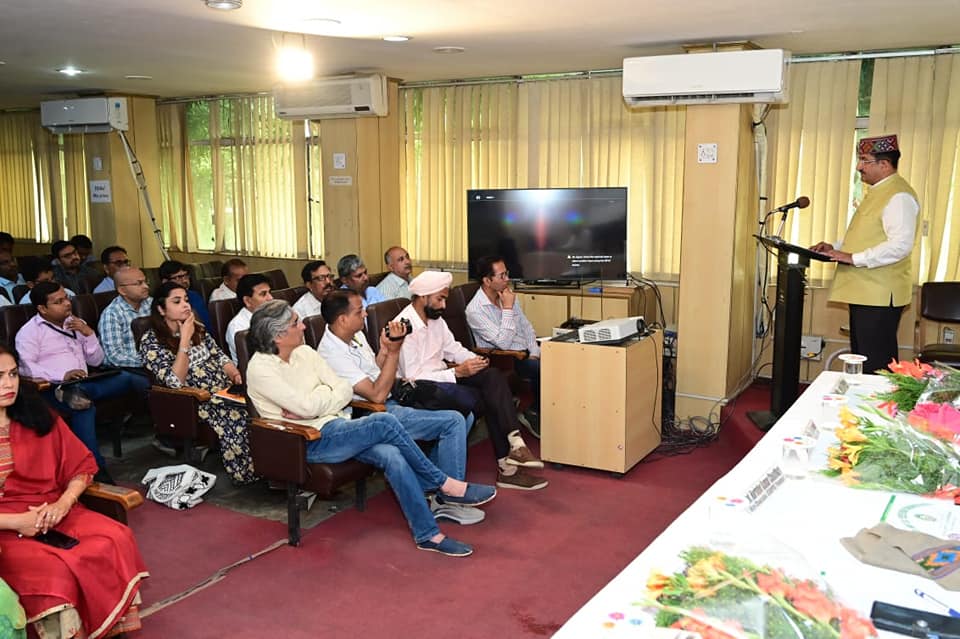 In her presidential remarks, Mrs. Anuradha Aggarwal, Additional Director General, Ministry of Information and Broadcasting, said that broadcasters should be aware about the farm technologies which help farmers in doubling their income. She told that University experts will train around 45 broadcasters from all over the country in using innovative farm production technologies in increasing farmers income. The role of broadcasters at All India Radio and Doordarshan was very important to educate the stakeholders with correct information and technologies.
Dr Umashankar Singh, Coordinator NABM and Dr Naveen Kumar, Director Extension Education also expressed their views. Dr S.K.Upadhyay, Associate Director proposed a vote of thanks. The University statutory officers including Mrs. Madhu Chaudhary, HAS Registrar and heads attended the inaugural ceremony.
Read more: http://hillagric.ac.in/news/news.html