Palampur 1 November. "Think out of the box and come out with new innovations to engage the young generation with farming", advised Dr D.K.Vatsa, Vice-Chancellor during foundation day celebrations of CSK H.P. Agriculture University, here today.
While addressing the University community, the Vice-Chancellor exhorted scientists to face new age challenges like decreasing farm land, pressure to produce more to feed ever increasing population, climate change, etc with modern farm technology. He said that new technology can help revolutionize hill farming by making it more efficient, sustainable and productive. "Through the integration of precision farming techniques, such as GPS-guided tractors and drones, farmers can optimize their resources, reduce waste, and increase crop yields. Use of artificial intelligence, sensors and data analytics enable real-time monitoring of soil conditions, weather patterns, and crop health allowing farmers to make informed decisions", opined Dr Vatsa.
The Vice Chancellor also discussed the need for apt use of early warning systems to minimize the loss of human and animal wealth, farmlands, etc. during natural disasters.
The Vice-Chancellor appreciated the alumni and students for bringing laurels to the institution with their excellent achievements at regular intervals. He asked them to help keeping campus clean and green and always maintain a glorious tradition of ragging and smoke free campus. He emphatically cautioned them against falling in the trap of drug abuse.
He thanked all retired officers and scientists for their contributions by producing quality human resources, good crop varieties and excellent technologies which has enabled the University to make Himachal Pradesh self-sufficient on the food front. He expressed happiness that the State has earned its name for hill agricultural diversification and the farming community has imposed its faith in the University.
The Vice-Chancellor also tanked the State Government, the Indian Council of Agricultural Research, and other funding agencies for their support.
He asked all employees to serve the farming community with renewed enthusiasm, joy and zest.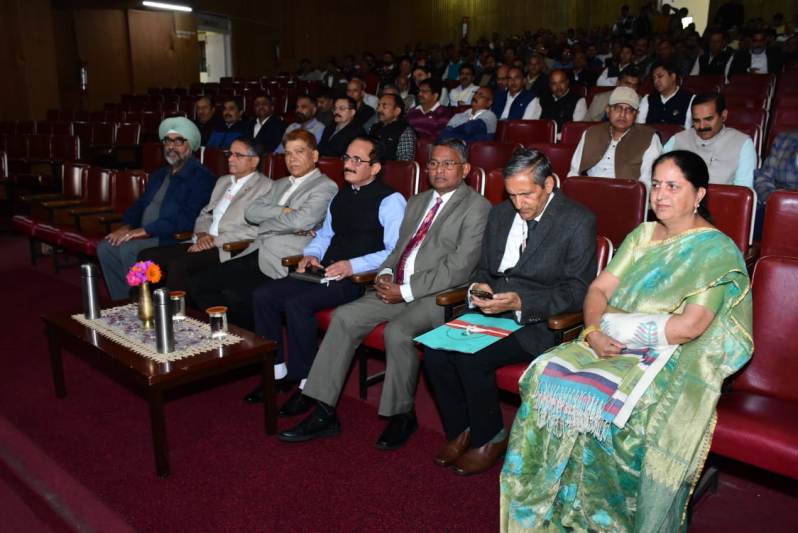 The Vice Chancellor also honored some students, scientists and non-teaching employees with certificates for their services.
Dr S.K. Upadhyay, Director of research presented major achievements in academics, research and extension education.
Mr. Aryan Gupta and Ms. Eva Sharma, who took part in 'The Floral Tribute Function' in the Central Hall of Parliament, also expressed their views. Dr R.S. Chandel, Students' Welfare Officer welcomed all. Drs Pawan Sharma and Rakesh Kumar also expressed their views.
A colorful cultural programme was also presented by the students to mark the occasion.
All statutory officers, heads, scientists, non-teaching employees and students were present during the celebrations.
Read more: http://hillagric.ac.in/news/news.html