The ICAR-Central Institute for Research on Cotton Technology, Mumbai organized an "Industry Interface Meeting" under Azadi ka Amrit Mahotsav India@75 on 7th June 2023, Mumbai.
This meeting was presided over by Dr. S. N. Jha, DDG (Agril. Engg), ICAR, New Delhi. Representatives from tractor manufacturing companies, Fertilizer industries, Textile industries, Food industries, Chemical industries, Briquettes and Pellets manufacturing industries participated in this meeting along with other cotton value chain stakeholders. Dr. S.K. Shukla, Director; Heads of Divisions and Scientists from ICAR-CIRCOT interacted with the participants in this meeting.
The deliberation on refinement of developed cotton pickers and its deployment in the farm, use of robots for cotton picking, deployment of pre-cleaners for mechanically picked cotton, evaluation and field testing of Nano fertilizers (nano-zinc and nano-sulphur developed by ICAR-CIRCOT) and their adoption, development of tracer fibers for use in cotton value chain, production of activated carbon from cotton biomass were made during this meeting. The major focus was on establishing linkages between various engineering institutes under ICAR with the industries / start-ups for faster and efficient development and adoption of engineering technologies in the farm.
A high level committee including representatives from Government organizations, industries and other stakeholders was constituted by Dr. Jha to look into various aspects in refinement and adoption of cotton pickers.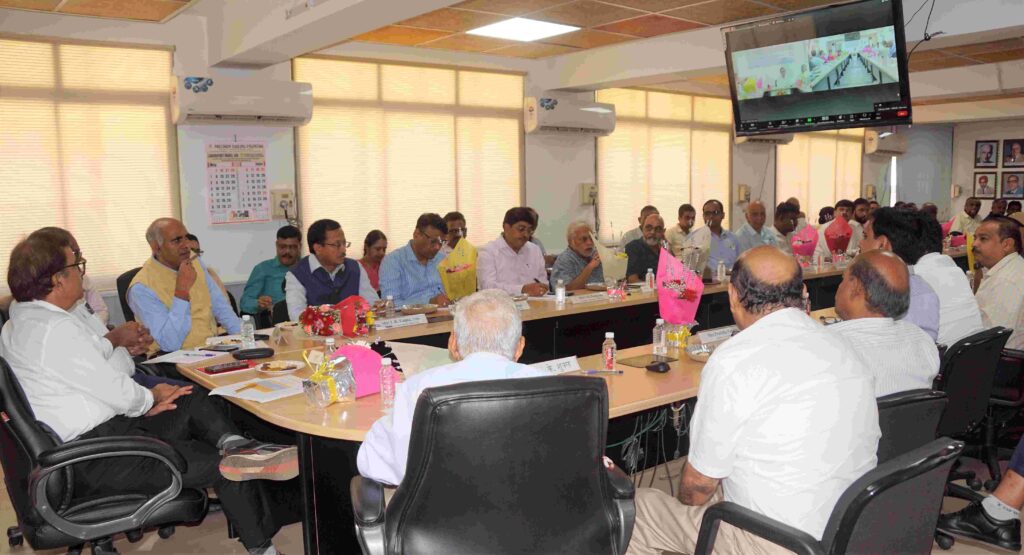 Dr. S.N. Jha put forwarded his wish for the establishment of "National Institute for Agricultural Robotics and Artificial Intelligence" in a public-private partnership mode to accelerate the adoption of cutting-edge technologies in the farming sector for the betterment of Indian farmers. Dr. Jha urged the business houses to establish sponsored chairs / laboratories in the Engineering Institutes of ICAR for fast-pace development of technologies based on commercial requirement and early adoption. He also mentioned that more than 100 start-ups are in the market using technologies licensed from various ICAR institutes.
Shri. Suresh Kotak, Director, M/s. Kotak Commodities applauded the research work being carried out by the Scientists of ICAR-CIRCOT and urged the scientific fraternity to make it reach the end users for the benefit of the society.
Sh. Lalit Kumar Gupta, Chairman-Cum-Managing Director, The Cotton Corporation of India Limited, Navi Mumbai put forward their ongoing efforts in establishment of RFID tagging of cotton bales and use of block chain in traceability for quality assurance. He also mentioned that CCI will continue to support in a major way during the centenary celebration activities of ICAR-CIRCOT during 2023-24.
Earlier, Dr. S.K. Shukla made a brief presentation about the technologies available at ICAR-CIRCOT for commercialization. Dr. A.J. Shaikh, Former Director, ICAR-CIRCOT; Dr. K. Narasaih, ADG (PE); and Dr. S. Patel, Member QRT of ICAR-CIRCOT were also present on this occasion.
Dr. D.M. Kadam, Principal Scientist & Head, Division of Engineering Technology Transfer delivered the vote of thanks.
Read more: https://circot.icar.gov.in/en/icar-circot-organizes-industry-interface-meeting/