Eastern Regional Station (ERS) of ICAR-Indian Veterinary Research Institute (IVRI), Kolkata, organized Training-cum-Awareness Programme on Scientific Pig Farming and distributed piglets and pig feed to the beneficiaries under IVRI-NEH Programme, which may help in livelihood generation and overall well-being of the weaker section of the region. The programme was organized in collaboration with Krishi Vigyan Kendra (KVK)-Mangan, North Sikkim, Sikkim on 23.03.2023.
Addressing the gathering after the inaugural programme, Dr P. K. Nanda, PS, ERS, ICAR-IVRI, Kolkata narrated the objectives of the programme and role played by ICAR-IVRI, Kolkata through implementing various schemes and flagship programmes such as Developmental Action Plan for Scheduled Tribes (DAPST), Developmental Action Plan for Scheduled Caste (DAPSC) and North-Eastern Hill (NEH) in the Eastern and North-Eastern Region for improving the socio-economic conditions of the beneficiaries. Speaking on the occasion, Dr. A. K. Das, PS highlighted the research achievements of ICAR-IVRI, the premier research institute in animal sciences, particularly in developing vaccines and diagnostic kits for prevention and control of animal diseases. Dr. Das also spoke on the market potential and opportunities for commercialization of traditional meat products in the northeastern region, with special emphasis on pork for better income. To give wider publicity and enhance brand image of ICAR-IVRI in north-eastern region, "The Film on IVRI" depicting its history, products and technologies developed was also showcased among the beneficiaries.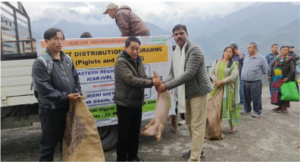 The training-cum-Awareness Programme was followed by distribution of piglets (n=90), along with pig feed (4500 kg), mineral mixture, and supplements among beneficiaries (n=30) from Phodong, Rongong, Ramthang, Sentam, Singhik, Tingchim of North Sikkim district. As a part of awareness programme, leaflets on various diseases were also distributed among the participants.
The entire programme was coordinated by Dr (Mrs) Hishey Ongmoo, SMS (Animal Science), KVK-Mangan, North Sikkim. An overwhelming response of the participants with cooperation of the subject matter specialists and staff of KVKMangan, North Sikkim and support from the Animal Husbandry and Veterinary Services Department, Govt. of Sikkim in supplying the piglets made the NEH programme of ICAR-IVRI, Kolkata at Mangan, North Sikkim a great success.
See More: http://ivri.nic.in/News/ers2732023_1.pdf
Original Website Link: http://ivri.nic.in/