Guru Angad Dev Veterinary and Animal Sciences University (GADVASU), Ludhiana organized 'Nili Ravi Milking Competition' from 4th to 6th April, 2023. Buffalo farmers with per animal milk yield of more than 15 kg per day participated in this competition. The prime objective of the milking competition was identification of high milk yielding Nili Ravi buffaloes along with encouraging the buffalo breeders in Punjab. Dr.JPS Gill, Director of Research, GADVASU graced the valedictory ceremony as Chief Guest. The buffalo owned by S. Gurlal Singh of Village Jamalpur, Tarn Taran with average milk of 23.94 kg was declared winner of the competition. The runner-up prize was awarded to the buffalo of S. Buta Singh of Village Chuhar Chak, Moga with average milk yield of 21.45 kg. Third Prize was awarded to buffalo owned by S. Lahkbir Singh of Village Kohara, Ludhiana with average milk yield of 20.91 kg.
Dr. JPS Gill, emphasized the identification of best animals of Nili Ravi breed and stated that such competitions play a pivotal role in identification and conservation of elite germplasm. Dr Parkash Singh Brar, Director of Extension Education congratulated the winners and lauded their efforts for rearing buffaloes of high genetic merit. He informed that the university will conduct more such competitions to encourage breeding of top dairy animals including Murrah buffaloes, Sahiwal cows, goats, etc. in the state.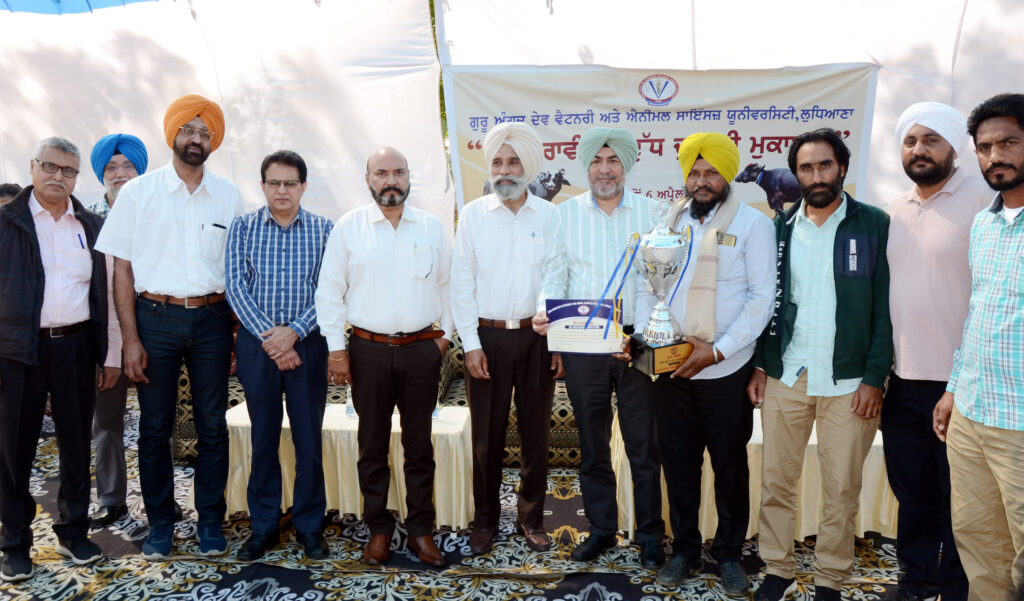 Dr. Inderjeet Singh, Vice-Chancellor, GADVASU stated that along with providing healthcare services to the livestock, the university has also started working on breed development through milking competitions. He congratulated Dr. R.S. Grewal, Director of Livestock Farmers and his team for meticulous implementation of the competition. Dr. Grewal has been instrumental in providing basic amenities to buffaloes and their owners along with systematic recording of milk. Deans, Dr. SPS Ghuman, Dr. YPS Malik and Dr. S K. Uppal, also graced the occasion.
Read more: https://www.gadvasu.in/news/detail/7725