A two-day Kisan Mela kicked off at Punjab Agricultural University (PAU) amidst the large scale participation of the ocean of farmers from Punjab and neighboring states, namely Haryana, Himachal Pradesh, Rajasthan, and Jammu and Kashmir. Farmers, rural women and youths flocked the campus of PAU that celebrated the development and recommendations of the new crop varieties and production-protection technologies under the theme "Vigyanak kheti de rang, PAU de Kisan Melayan sang." Heavy footfall of farmers was seen during live demonstrations and farmers-scientists' interaction at the stalls in addition to the beeline for the purchase of quality and improved seed, planting material, biofertilizers and farm publications. Wheat variety PBW 826 was the most sought after by the Punjab farmers, who queued-up since early morning to purchase it. Besides, desi flavours (pakora and jalebi) and cultural programme kept the farmers delighted and elated at the mela.
Inaugurating the mela, the chief guest Sardar Gurmeet Singh Khuddian, Minister for Agriculture and Farmers' Welfare, Punjab, stated: "For some, there is a Mecca, Harmandir Sahib or Devi-Devta Mandir, but for the farmers, PAU is a big Tirath (pilgrimage) and Vardaan (blessing). This University and Punjab farmers have made a remarkable contribution by wiping out hunger and filling the granaries in unison." The Minister advised the farmers to tighten their belts on the financial front and refrain from making huge investments by taking loans. Disclosing that the Punjab government was providing subsidies on an array of agricultural implements/equipment, he urged the small and marginal farmers to avail the benefits. The Minister also voiced serious concern over drug menace among youths and suggested farmers to spend more time with their children in order to keep them away from vices. Making a call for empowering women for the prosperity of the families, he observed: "We can't save Punjab alone, we need to work collectively to maintain the pristine glory of this state." Further, Sardar Khuddian remarked: "As Aam Aadmi Party (AAP) candidate, the High Command asked me to contest assembly elections opposite Shiromani Akali Dal Patron Sardar Parkash Singh Badal. But I won the elections. It is you who made me MLA and with the blessings of my family (agriculturists) and Punjabis, I will continue to serve the Punjab with humility." The State government has provided more than 36,000 jobs in the state so far, he told, while launching the website of PAU Beekeepers' Association.
Mr Oliver Braedt, World Bank Regional Manager for Agriculture and Food, who was the guest of honour, called the Kisan Mela "very impressive" during his maiden visit to Punjab and PAU. "I hail from farmer's family in USA and while visiting India, I saw Punjab's lush green land which is rich in production. You should be proud of this institution – PAU that works closely with you," he said to the visiting farmers. Further, Mr Braedt, in a lighter vein, remarked: "The rising graph of PAU and its close association with the farmers would make many global universities jealous." Elaborating, he expressed concern over the challenges of climate change, overuse of water, declining soil health and fluctuating prices. "You feel it everyday," he told the farmers, while adding that problems were manifold and that was the reason World Bank was extending support to PAU.
In his presidential remarks, Dr Satbir Singh Gosal, Vice-Chancellor, PAU, lamented the exodus of youth in the search of greener pastures. Advocating the adoption of agriculture as profession, Dr Gosal cited the examples of NRIs who were motivating their wards to pursue MBA, and practice agriculture (production) as well as agri- business (marketing). "During NRI Farmers' Conclave at PAU, NRI families shared their rich experiences of involvement in agriculture and self-marketing of agri-produce and processed products," he revealed, while lauding the keen participation of 1.5 lakh farmers in the mela.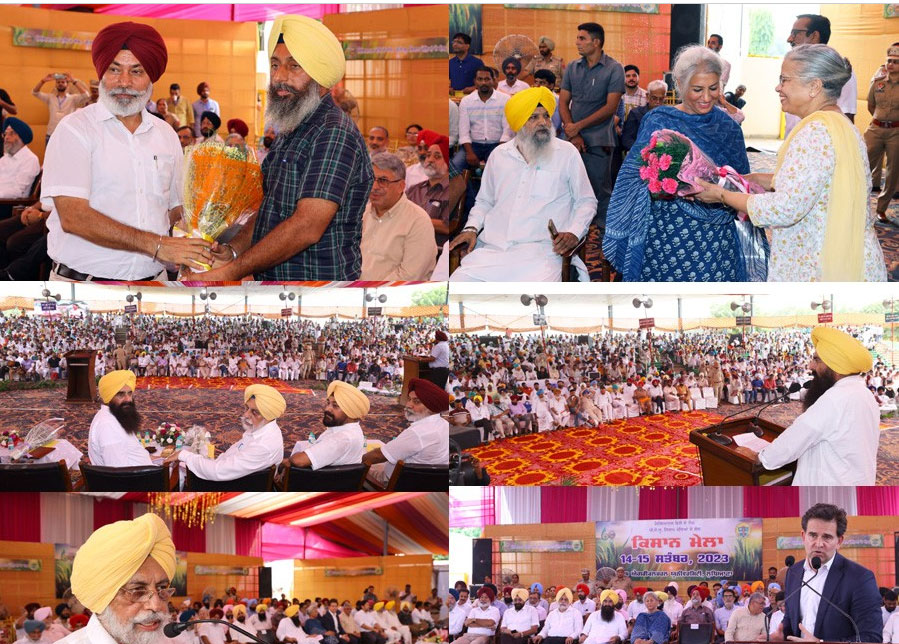 Dr AS Dhatt, Director of Research, explained the salient characteristics of PBW Zinc 2, PBW RS 1 and PBW 826 of wheat; PBG 10 of chickpea; IPFD 12-2 of field pea and Ajmer Fennel 2 of fennel. Urging the farmers to avoid using un-recommended varieties, he made a call for diversifying cropping pattern by sowing oilseed crops. Dr Dhatt also advised the farmers not to compound the problem by burning paddy straw and instead use Happy Seeder, Smart Seeder, Super Seeder and Surface Seeder technologies for its management. "PAU is also working on drone technology, the recommendation for which will be made next year," he informed.
Dr GS Buttar, Director of Extension Education, while welcoming the mammoth gathering of farmers to the mela, lauded the 56 years of successful organization of Kisan Melas since 1967. "Even during COVID-19, farmers stood by PAU," he said, while adding that the University also stood for the farmers during the monsoon fury this year. Divulging that more than 350 stalls have been put up at the mela, he welcomed the feedback from 12,800 villages of Punjab.
Sardar Amanpreet Singh Brar, Member, Board of Management, PAU, observed that Punjab has achieved a lot but at the same, lost a lot in terms of soil, water and air. Bemoaning the excessive extraction of groundwater which has led to declaration of 103 blocks as dark zones in Punjab, he suggested using drip irrigation for water conservation.
Dr GPS Sodhi, Additional Director of Extension Education, proposed a vote of thanks.
Dr TS Riar, Additional Director Communication, coordinated the programme.
At the mela, five PAU scientists, namely Dr Achla Sharma and Dr Gurvinder Singh Mavi, Principal Wheat Breeders; Dr Ranvir Singh Gill, Principal Rice Breeder; Dr Satpal Sharma, Principal Vegetable Breeder; and Dr Jagjeet Singh Lore, Principal Plant Pathologist (Rice), were feted for their outstanding contributions to the development of wheat, rice and vegetable varieties as well as disease management in rice.
Present on the occasion were Members of PAU Board of Management, namely Sardar Hardiyal Singh Ghaznipur and Mrs Kiranjit Kaur Gill; Chairman of PUNSEED Sh MS Sidhu; and Director of State Agriculture Dr JS Brar.
Read more: https://www.pau.edu/index.php?_act=manageEvent&DO=viewEventDetail&intID=8050