Activities
University Farm produces large quantity of breeder, foundation and certified seed of major food grain, pulses and oilseed crops such as wheat, paddy, urd, moong, lahi and soybean and orchards besides that of commercial sugarcane. The seed is supplied to U.K. Seeds and TDC, NSC.
The University Farm is primarily engaged in the production of quality seed of different crops which has increased the production and productivity of crops, in North Indian states. During last year of farm produced approximate10558q. quality foundation and certified seed of crops.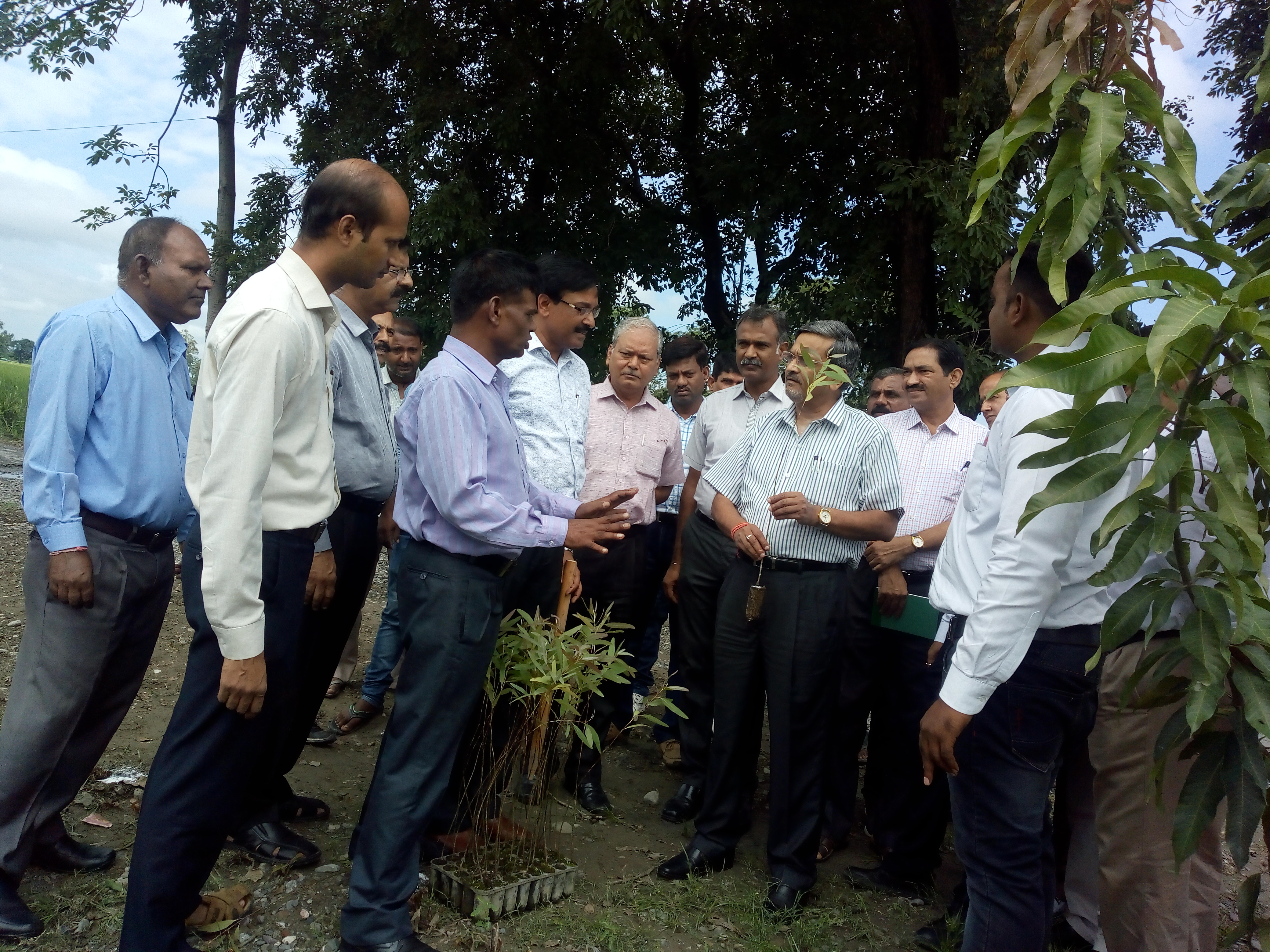 Eucalyptus Plantation
Diversification:
The activities of farm have been diversified for sustained long-term productivity. Incorporation of legumes during spring/summer season in rice-wheat cropping system, green manuring for soil health for sustainable production with sesbania/Sunhemp, orchards/ plantations, intercropping of sugarcane with toria and lentil, urd and mustard. Under MOU with Green Ply has been signed for the plantation of Eucalyptus (50000/year and total of 3.0 lacs plants) under buy-back guarantee system.
New Approaches
1. Contract Farming
As per the directives of state govt. the farm management decided to rent out the some of land of the university farm to the farmers and seed growing agencies for seed production under contract farming programme and thus strengthening the economy of farm. The additional benefits realized through contract farming are the land development and reduced pilferage.
2. Approach towards Model Hi-Tech Farm
Consistent improved management and timely operations helped in strengthening the economic status of University Farm. The total receipt of the University Farm is increasing over the years. The farm, being a predominantly commercial agriculture, is trying to improve its farming system and its productivity by adopting modern techniques and advanced agriculture equipment, IT tools and by inculcating team spirit among working community of farm. Farm has improved one step forward by getting it accredited with ISO 9001-2000 & 9001:2008 and become India's first ISO certified seed production farm and inching towards establishing it as Model Hi-Tech Farm.
3. New Initiatives:
Farm Advisory Committee has been resumed after 25 years. In which decision was taken to increase the total production of the crops produced on the farm. To make the hi-tech farm, the work of repair of the existing road of the farm, tractors and its related agricultural equipment's and vehicles has been purchased.
Ten tractors (four 75hp and six 55hp) has been purchased for strengthening the mechanization of Farm.
Procurement process for the purchase of 03 vehicles has been started.
Land of University Farm was handed over by the Govt. of Uttar Pradesh on 19th October, 1962. Therefore, October 19th was celebrated as Farm Day with great enthusiasm.
Enhanced mechanization in Sugarcane with Cane planter, Ratoon management machine, trench planter and mulcher.
Included in rice-wheat cropping system. Sesbania, green manuring are being done to enhance the soil and crop productivity.
Major repair work of houses & buildings is under way and office are being going on
Construction of 20 Toilets has been progress in labour shed of Beni area of Farm.
---
4. Resource Conservation Technologies
Burning of the crop residues at University Farm has been strictly prohibited. Several optional technologies turning by Mould Board Plough, use of Mulcher, sowing directly by Supper Seeder in standing residues, use of Bed Planter etc. are being adopting to retain the crop residues.
---
Read more: https://gbpuat.ac.in/directorates/farm/index.html