Udaipur 24th June Convener of Maharana Pratap University of Agriculture and Technology, inauguration of Student Union Office in College of Fisheries, in the presence of Chief Guest Dr. Ajit Kumar Karnataka, Vice Chancellor MPUAT and College Dean Dr. BK Sharma and student representatives. Special guest on this occasion Shiv Raj Singh Chauhan, State Secretary NSUI. Satyendra Yadav, Students' Union President MPUAT, General Secretary Manish Bunkar, Research Representative Manoj Meena, Deepender Singh President RCA, Pradeep Mehra General Secretary CCAS and many students from other colleges were present.Dr Subodh, Former Dean of the college Sharma and Administrative Officer Dr ML Ojha, and all the faculty members and staff members of the college were also present.
On the inauguration of the Student Union Office, congratulated Jairam Jat, the unopposed general secretary of the college, and Saurabh Meena, joint secretary, for setting an example of mutual harmony and brotherhood. On this occasion Vice-Chancellor Dr. Ajit Kumar Karnataka exhorted the students to get involved in building their own, state and nation by telling about the services of Matsya and bright future in higher studies. He also assured the development of the only college in the state and to bring faculty here.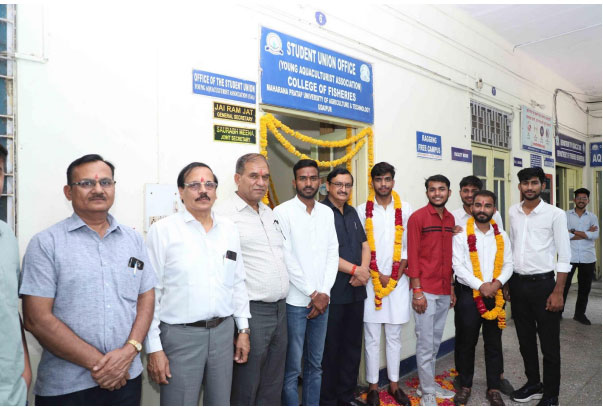 He congratulated the dean for the selection of two students of the college under the Institutional Development Program in the National Agricultural Higher Education Project of ICAR and sending them to Thailand for training in a high-level fisheries institute. He advised the students to work hard for success.
Students Union General Secretary Jairam welcomed the Vice Chancellor and all the invited guests in his welcome address. He talked about the development of the school and the participation of students in IDB training, participation in sports and youth festival and all round development. Dr. BK Sharma, Dean of Fisheries College, called upon the student union officials to play an active role in the development of the college, to take advantage of the educational facilities and to set goals and engage with all their might in achieving them. Dr. Sharma gave the message of all round development of the students and wishes for their bright future.
Read more: https://www.mpuat.ac.in/images/newsEvents/Inauguration%20of%20Student%20Union%20Office%20in%20Fisheries%20College.pdf
Original link: https://www.mpuat.ac.in