ICAR-Central Inland Fisheries Research Institute, Barrackpore organized an ATMA sponsored five days capacity building programme on "Inland Fisheries Management" for the fish farmers of Parjang Block, Dhenkanal, Odisha during 06 – 10th June, 2023.
A total of 42 farmers from Parjang block participated in the training programme. This training was conducted to upscale farmers' knowledge on scientific fish farming. Knowledge was imparted on various aspects of fish farming such as pond construction and management, nursery and rearing management, fish disease management, integrated fish farming etc. Besides, the trainees were given an orientation at the Ornamental fish culture unit and biofloc functional unit of the Institute.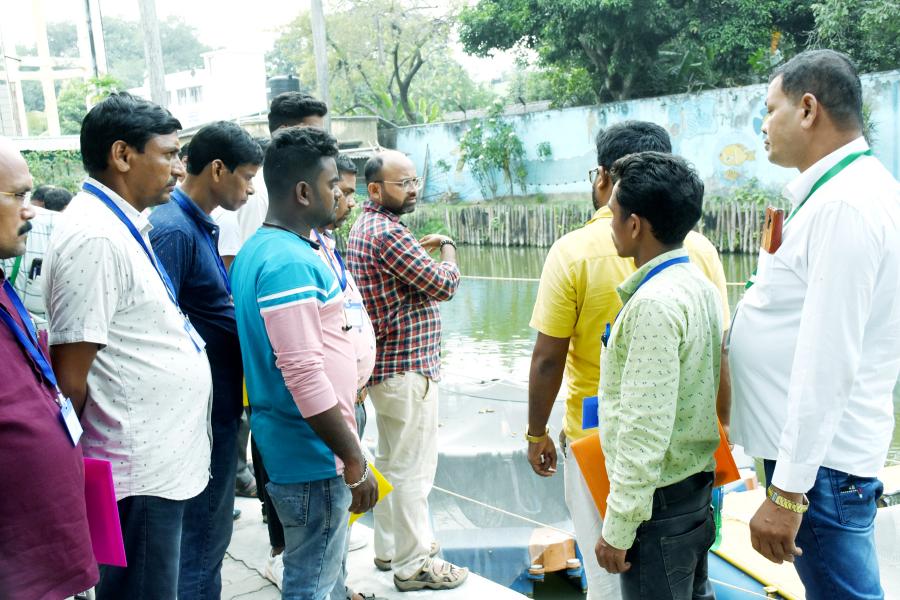 In addition, field trips were organized as part of the training programme to ICAR-NBSSLUP field station, Kolkata, ICAR- CRIJAF, Barrackpore, CIFE, Kolkata Centre and fish farm visit to Nadia. During the training program, Dr. B. K. Das, Director, CIFRI had interacted with the farmers and encouraged them to develop their knowledge through the training.
Dr. Das emphasized to utilize the underused water resources including backyard ponds through fisheries in a scientific way which offers ample scope for livelihood improvement. The objective of the capacity building programme was to strengthen the practical skills of the farmers for enhancing the fish production in open waters including ponds & tanks, through on-field exposure visits and field demonstrations besides class room sessions. It is anticipated that the training programme will have a positive impact on the trainees for livelihood improvement.
Read more: http://www.cifri.res.in/art640.html